Chenyu Sun, Anna Oh
Tools:  Swift, ARKit2, Image recognition, CoreML, UI/UX Design, Figma, Sketch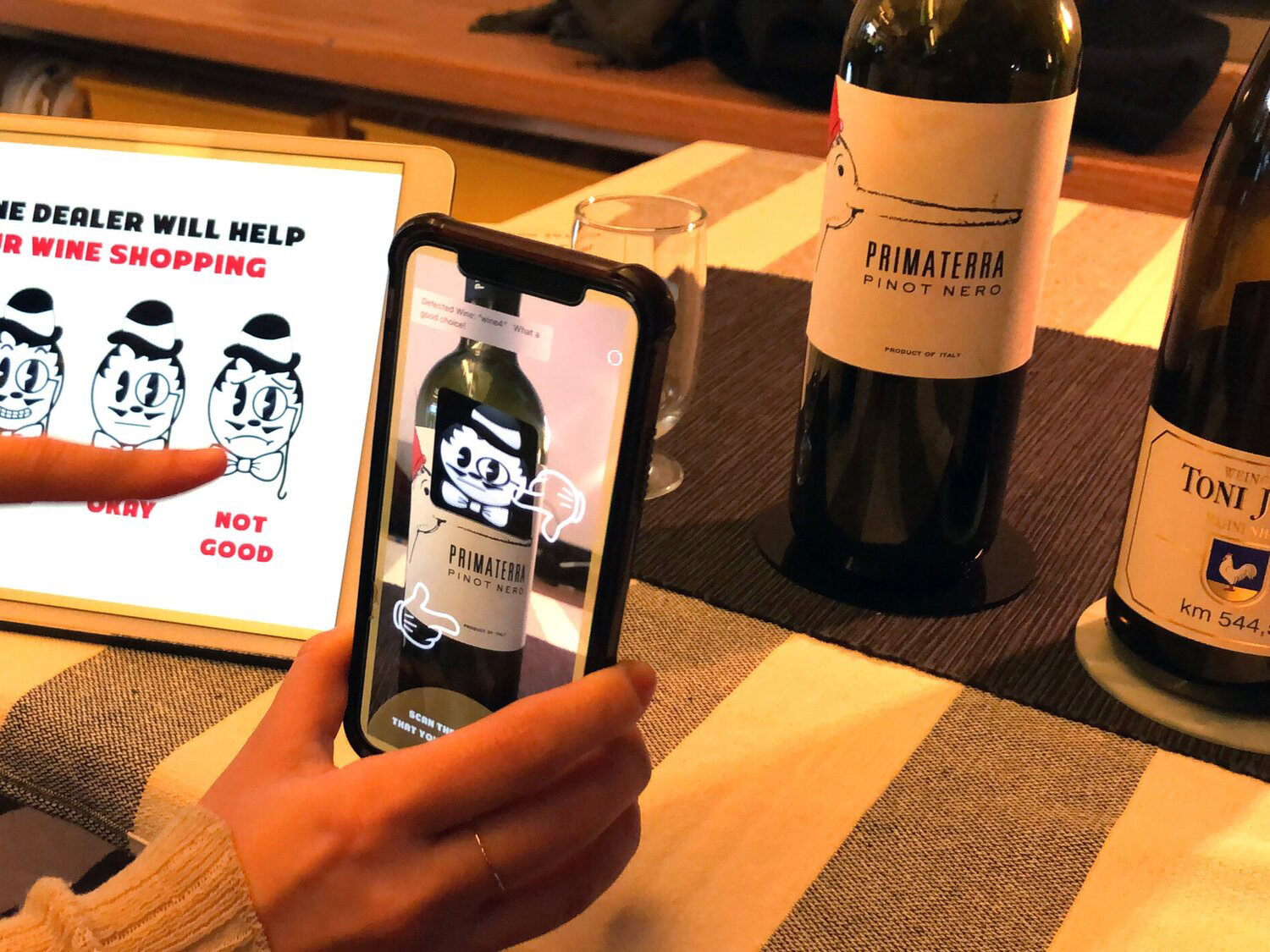 How might we design an experience that wine shoppers can quickly find good  wines  in the wine store?
- The design challenge
The result of the project is an
Augmented Reality application
 that involves three parties: A) the personalize tastes section; B) the AR camera shopping; C) the result showing on the wine bottles of different matches of your personalized tastes.
The product goal is to
help wine lovers who are not expert of wine knowledges to have a fun and quick personalized wine shopping experience
. Whereas the secondary systems inside analyze the different datas and with image recognition for wine label detection.
Quantitative Interviews (Generative + Evaluative) :
‍
Age:22-40 / quantitative research with 10 questions through Google surveys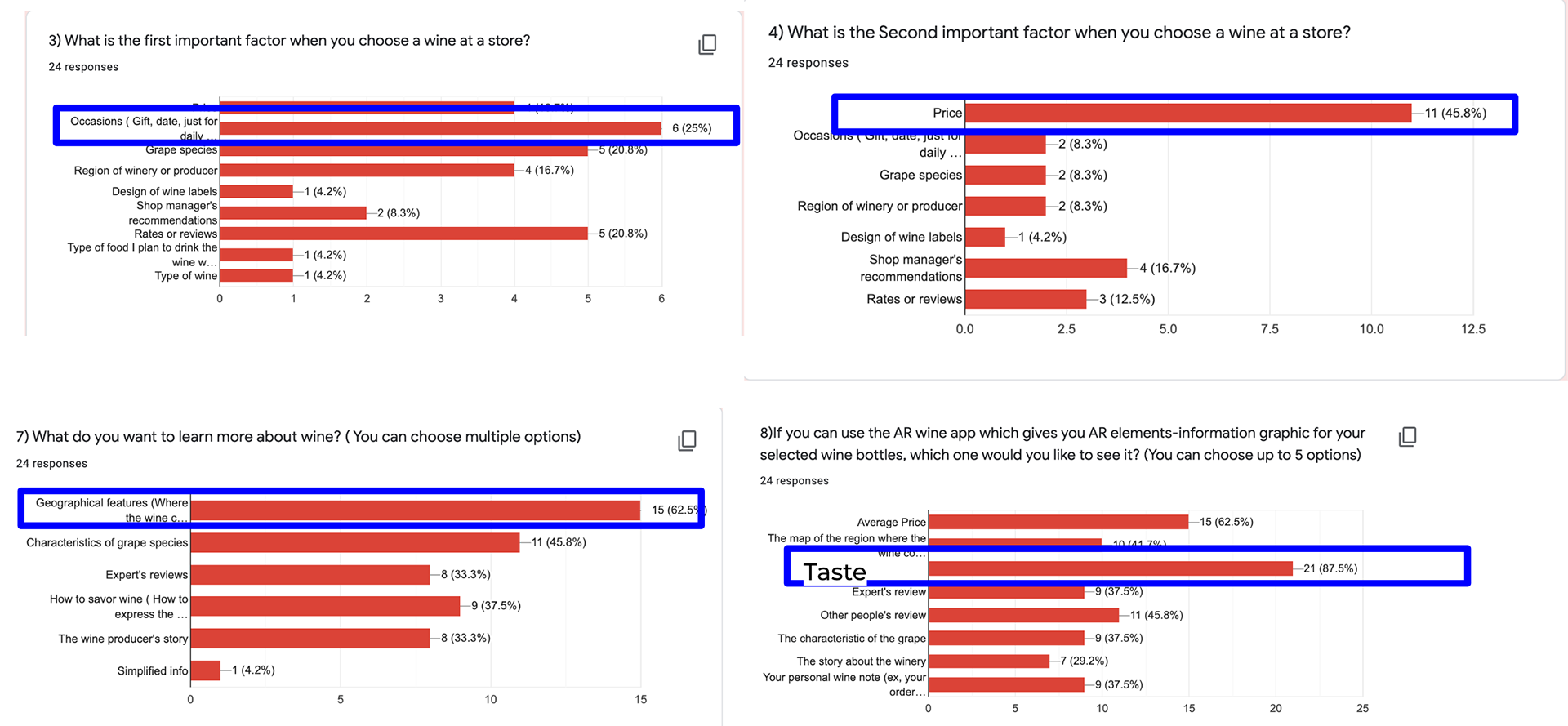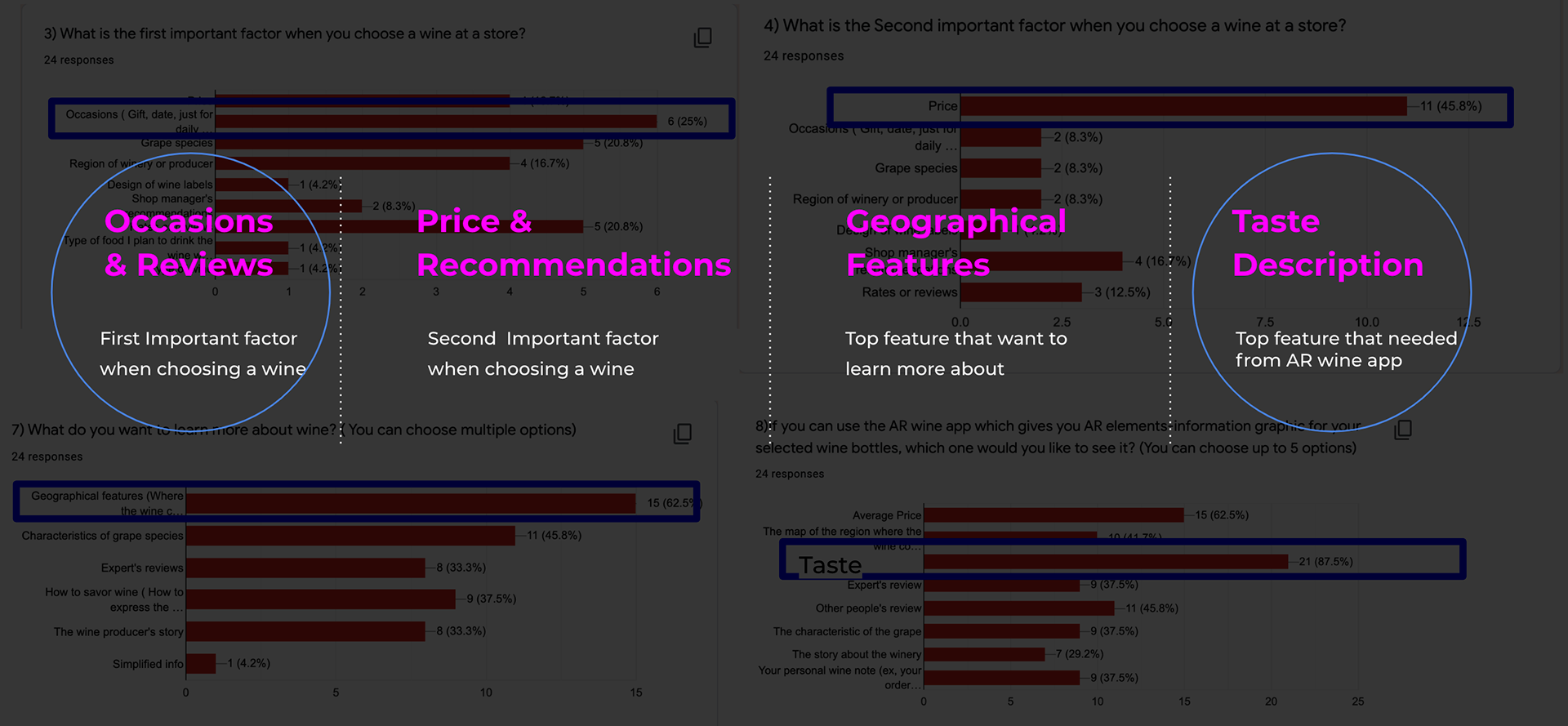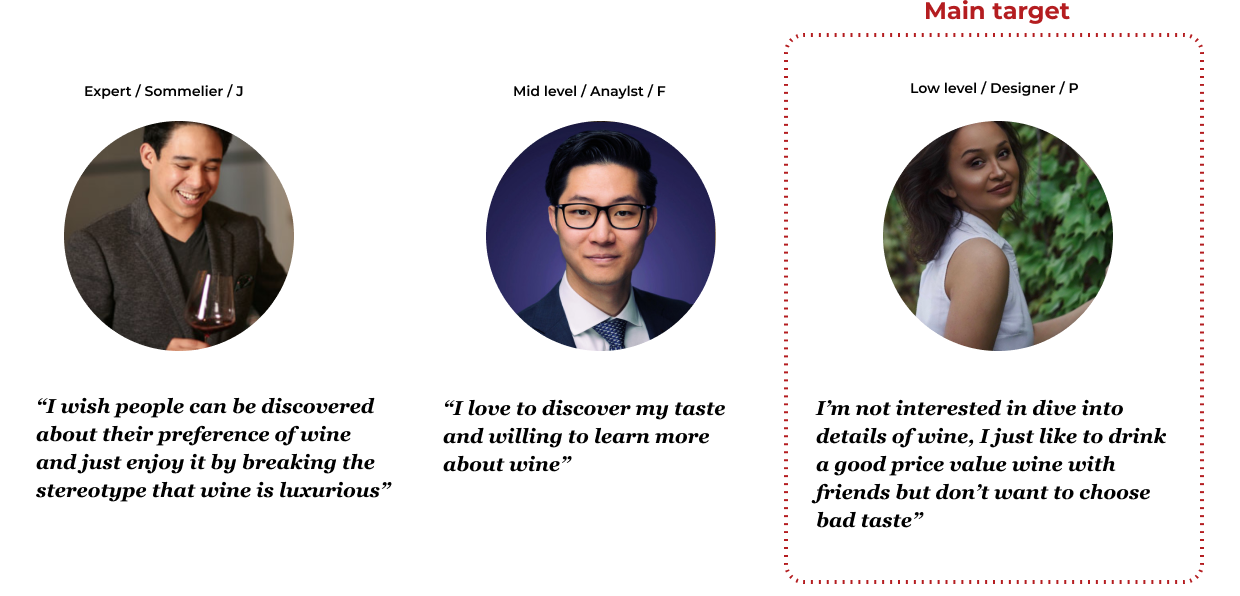 Problem Discovered
Casual drinker, and have a self-like specific flavor, but lack of knowledge about the tastes, origins of wine, hard to quickly find wine to buy that really matches when go to a wine stor

e.
‍
I witnessed a huge gap between the wine starter and wine bottles in wine store, a wine starter don't want to learn about wine knowledge and don't really want to have a conversation with shopkeepers, they usually not stay long in a wine store, and sometimes they just randomly choosing the wine.
ideation
Based on the insights from the research stages, we each ideated thirteen concepts. We used one of the ideation methodology Crazy 8's, but we customized it as a Crazy 1min for more describing our ideas. As a following step, we sorted out four category by technical features and made groups by values - Personal / Recommended / Informal / Educational / Social. Each of us had two times votes for down selection.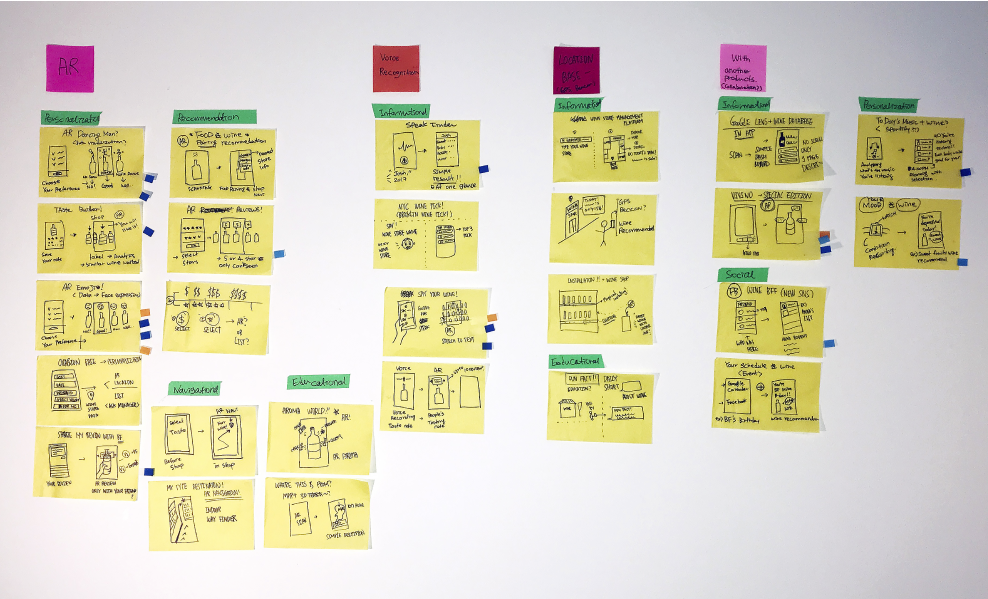 Down selection
Most of our ideas were to use AR and Voice command features in terms of fast and direct results.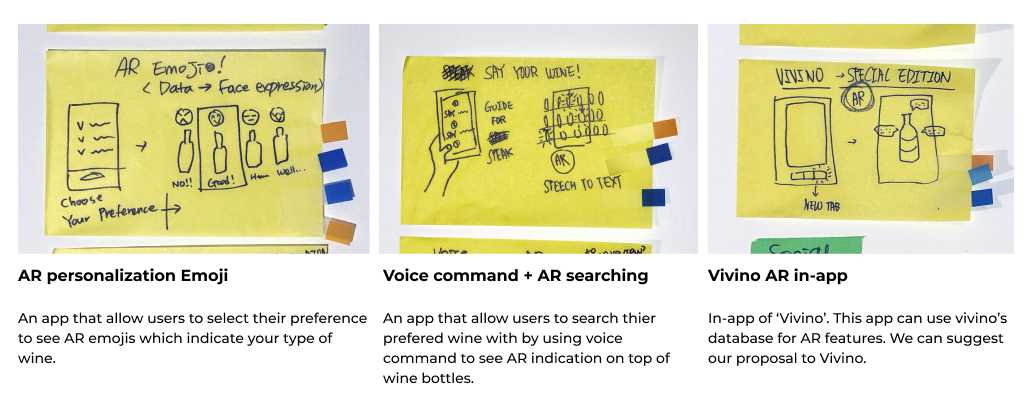 A fun, quick, personalized AR wine shopping experience.

An augmented reality APP explores new ways of wine retailing / shopping experience, which enables users to easily find personalized wine in stores with their phone.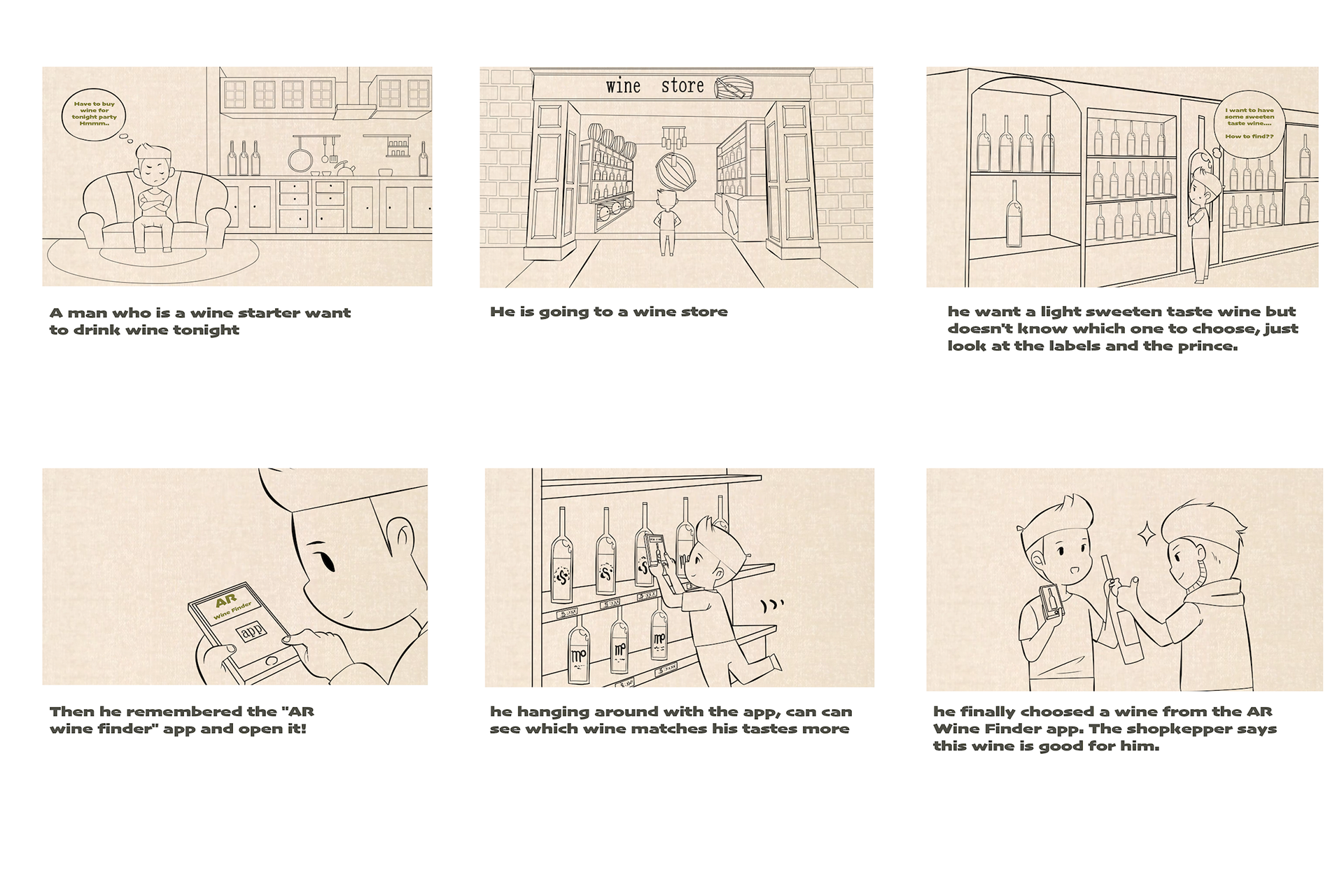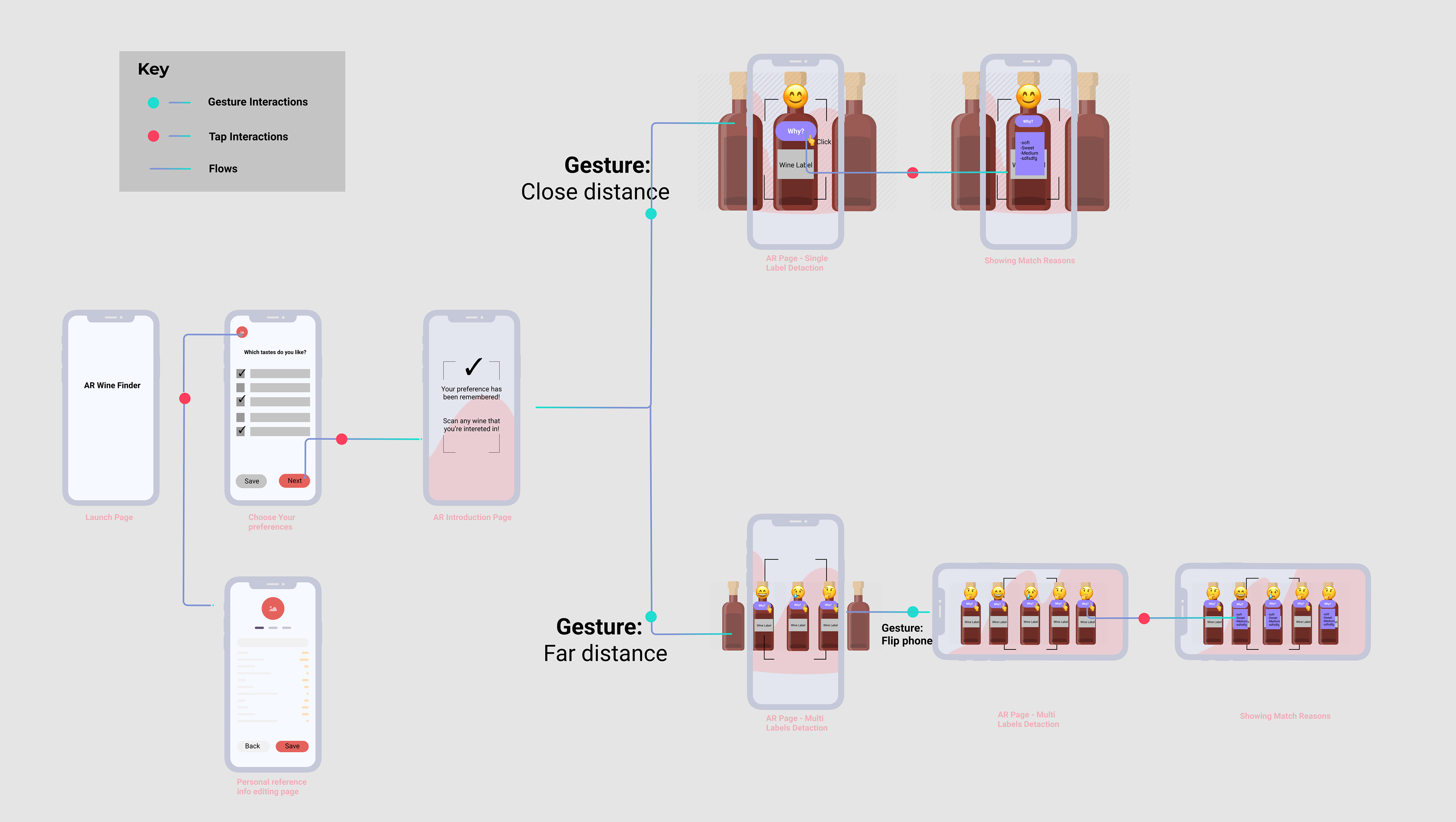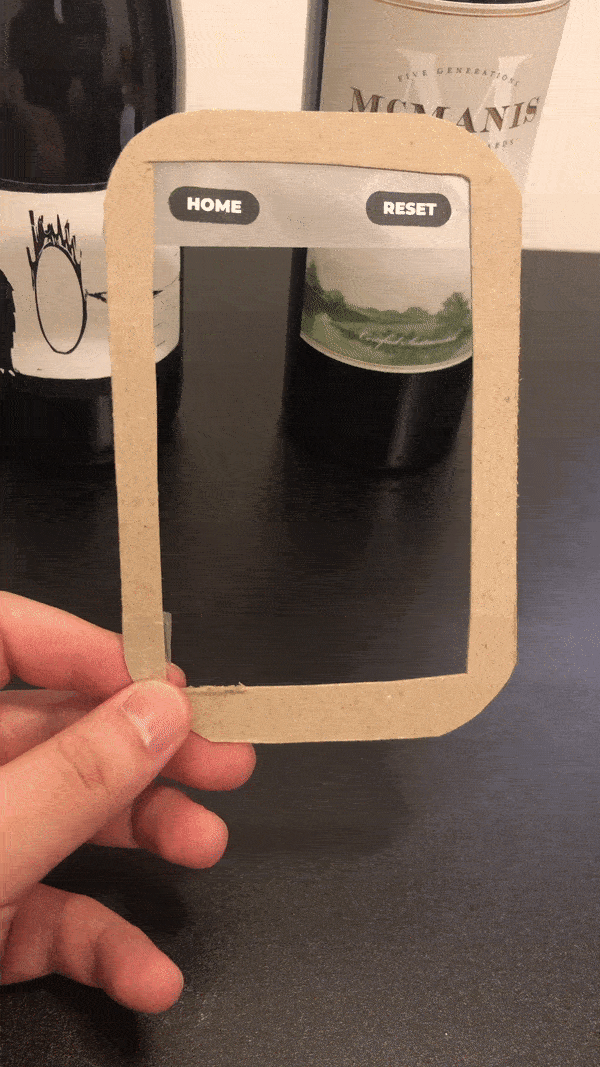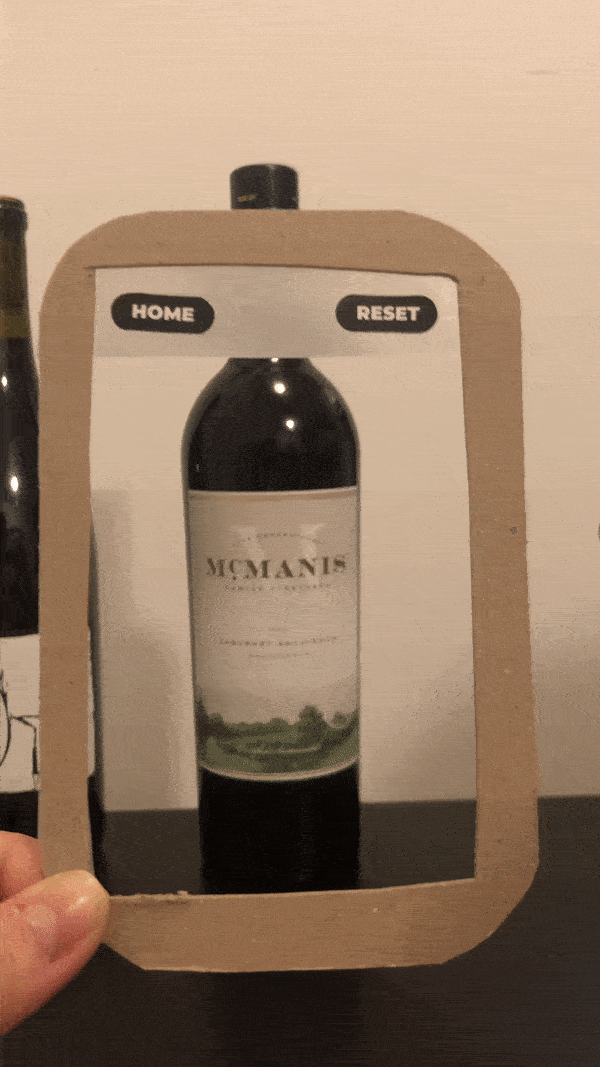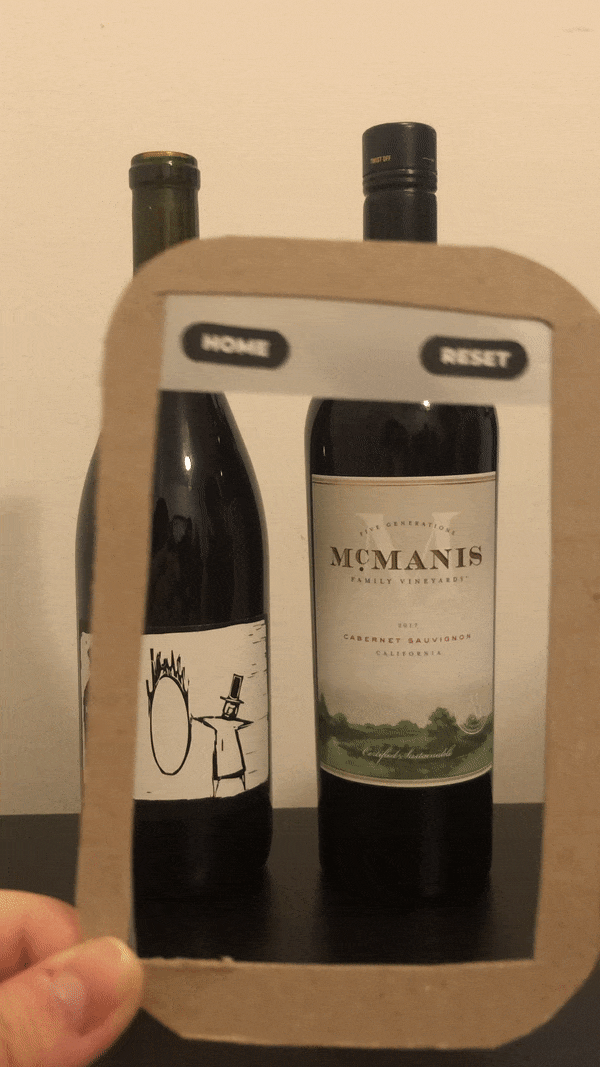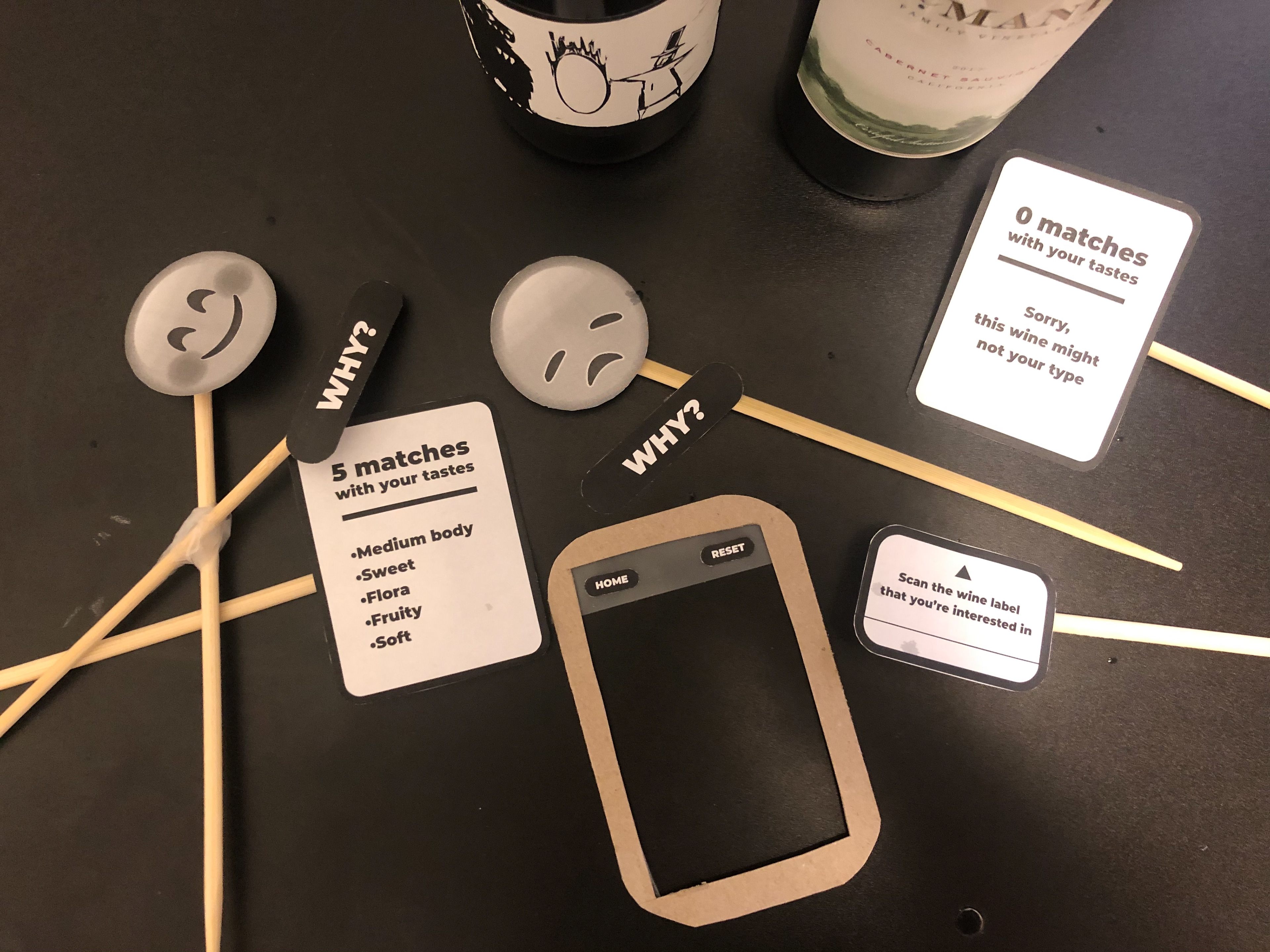 During our research, we found interesting facts about 1930's American history. Firstly, from that era, American wine production became boosting due to the end of prohibition. Secondly,  the first motion capture technology was inventedy by Fleischer studios in New York. Since  our emoji can be used face motion capture technology, we thought it will be interesting for visual design with Fleischer studio style as our visual theme.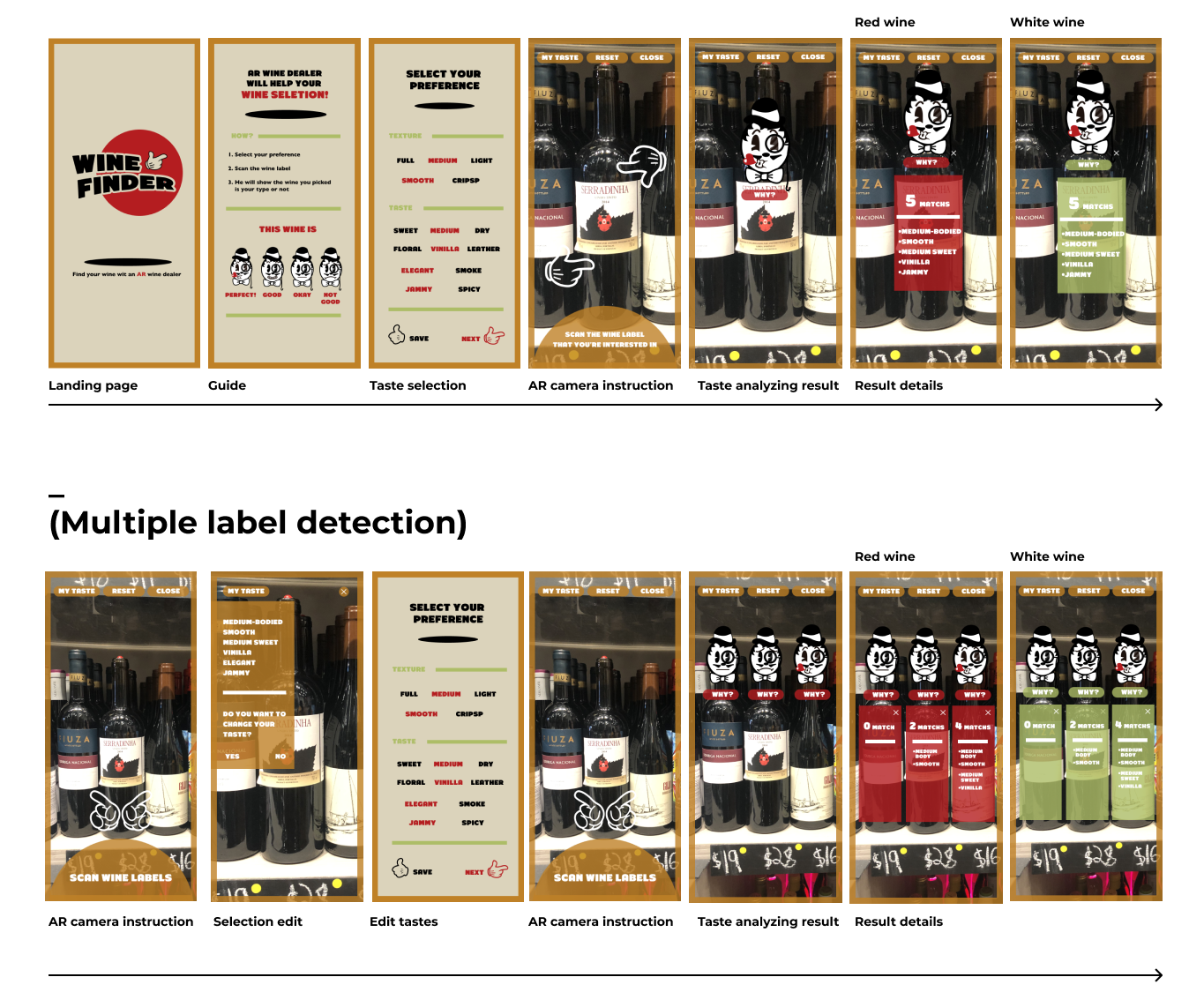 Key takeaways

For contents
1. Taste selection is not very understandable.
2. The result "Matches" feature is not intuitive.

For interactions
1. Hard to compare between different facial expressions (More extreme and simple visual are needed)
2. People wanted to keep scanning many wine labels(They stayed long with AR camera opend - stable and continued AR scanning are needed)